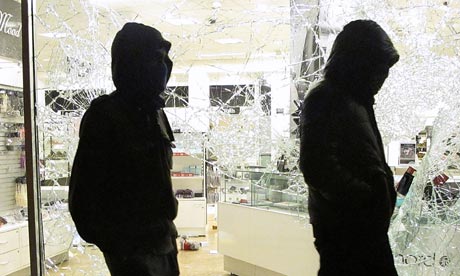 The Centre for Social Justice's much-publicised
report
on gang violence in the UK is harrowing reading. It paints a picture of a government using the riots as a pivot to make the coalition look tough on crime whilst neglecting the root causes of serious social unrest in urban Britain. In short, the strategy of going after high-profile gang leaders in the wake of the riots (on paper, a fairly sensible approach) backfired:
...it seems that an unintended consequence of the arrest of senior gang members has been to heighten tensions and violence. The removal of Elders by the police was cited as integral to this development; preceding Elders were described as having a 'code' in which certain acts – such as shooting a rival gang member when accompanied by his mother – were understood to be unacceptable and therefore not committed. There was a consensus that the current gangs neither have such a code nor cohesive leadership, which is resulting in increased chaos, violence and anarchy. One young person with whom we spoke related a recent situation where a young gang member had held a gun to the head of a rival gang member's baby. Speaking to us he remarked that 'you're seen as 'a nobody' if you haven't killed someone'.
My italics. The strategy of high-level arrests is, on paper, a good one. Anyone who's watched The Wire will surely recognise the need to put the Avon Barkesdale, Stringer Bell and Marlo Stanfields of the UK drug scene behind bars, but surely not at the expense of a wider strategy of working class enfranchisement? The report also highlights the fractured relationship between the police (the Met in particular) as antagonistic in gang violence - hardly news to anyone living in London. The issue is also no longer strictly a problem affecting young males:
The increasing involvement of girls in gangs, particularly in relation to sexual exploitation,
was highlighted as a significant issue by all interviewees. Concern was expressed that the
problem remains 'hidden' and severely under-addressed. We were told of a case where
a 13-year-old gang-involved girl being subjected to sexual exploitation was found to be
grooming her 10-year-old sister for the purpose. Another case related to us was of a Year 5
girl (i.e. aged 9/10) grooming her friends to be kissed and fondled by her 11-year-old gang involved brother.
Youth unemployment also factors in heavily, as ex-gang member Jermaine Lawlor
describes
:
Everyone is just hungry – they are just desperate. If you are not making money, how are you going to survive? You and me don't need to rob anyone but when you have no money, you need it. You need skills.
So more bad news for the Coalition, and Cameron in particular. The striking thing about the CSJ's report is how many of its recommendations mirror Cameron's (in)famous 'hoodie' speech from 2006. I mean, look at this:
The long-term answer to anti-social behaviour is a pro-social society where we really do get to grips with the causes of crime.

Family breakdown, drugs, children in care, educational underachievement - these provide the backdrop to too many lives and can become the seed bed of crime.
True to the point of truism, surely. Contrast this with Cameron's speech to the CSJ last week:
Committing a crime is always a choice. That's why the primary, proper response to crime is not explanations or excuses, it is punishment – proportionate, meaningful punishment.




And when a crime is serious enough, the only thinkable punishment is a long prison sentence. This is what victims – and society – deserve.
The rest of the speech pays only lip service to the broader social approach to gang culture that was suggested in 2006, and the CSJ report notes that the efforts to tackle the sources of gang culture have been unsuccessful and lacking in political commitment:
[Government strategy on gangs is] not translating into the genuine transformation of communities. Furthermore, some have expressed deep concern that the Coalition is losing commitment to this extremely important issue.
If gangs were addressed as part of a bigger societal problem stemming from working-class disenfranchisement in the past three decades, there might be a serious discussion to be had. Instead, what we are faced with are ridiculous comments from commentators like Richard Starkey about white youths
'becoming black
' - effectively blaming the riots on rap music, or attributing systemic criminality entirely to individual agency - pure criminality. This is nothing new - the UK has had gangs for over 100 years, and for a while they were being blamed on penny dreadfuls, of all things. What is clear is that nothing will be done to address the problem so long as gang violence is used as a political pivot point for politicians wanting to declare another war on criminality to satisfy reactionary elements of the electorate. This goes deeper than headlines - when you have a society that has, over decades of societal erosion, forged an underclass, an invisible proletariat, the kind of nihilism that literally set London on fire last year is inevitable. All it takes is a catalyst like the shooting Mark Duggan to let loose a torrent of resentment and anger which culminates in what was seen last year on Britain's streets. Does that excuse people stealing TVs and trainers? No. But characterising the riots as mere opportunism distracts from the problem, and we wouldn't take an expert seriously if they derided riots in, say, Russia as being simply bastards let loose. When you read through the CSJ's report and consider it as a symptom of a larger crisis amongst the British working class, slogans like 'Big Society' or 'One Nation' seem dystopian in both their bland cynicism and severe disconnect from the problems they're ostensibly supposed to address.
(Image source:
http://static.guim.co.uk/sys-images/Guardian/Pix/pictures/2011/10/20/1319138939501/Gang-culture-007.jpg
)